About Snowluke / Emu
Collectively Mark Hodkinson and Richie Conroy have written over 50 hours of television for international productions. Recent projects include;'Roy' (BBC) 'Groove High' (Disney) and Canimals (Aardman Studios). In 2006 they set up Snowluke Pictures. To date they have co-written and co-directed an award-winning Galway Film Centre/RTE short film 'Up For Air', and the mockumentary 'Fran' series 1 & 2 for Setanta Sports / Broadcast Authority of Ireland. Focusing primarily on comedy, Snowluke also have a number of projects in development with various Irish and International broadcasters.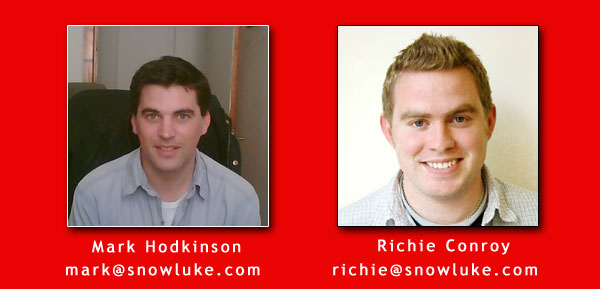 Recent Clients:
EMU Productions was set up in 2007 by Eimear O'Kane with the purpose of producing a range of television and film projects.
As well as co-producing Fran, EMU has co-produced one feature film Satellites & Meteorites (with i-Wire Films) that has shown at a number of film festivals around the world including the European Film Festival, Montreal World Film Festival, Rhode Island International Film Festival where it won 'Best Editing',Washougal International Film Festival where is won 'Best Film' and the Santa Cruz Film Festival where it picked up the Grand Jury Prize for 'Best Feature Film'. It was picked up by High Point Media Group in Cannes 2008 and has sold as a television movie across a number of territories including the Middle East, China, Asia, Russia, and North America.
EMU Productions is currently in post production with the short film Corduroy, a 'Signatures' scheme run by the Irish Film Board/Bord Scannán na hÉireann. Written and directed by Hugh O'Conor, the short film will premier at the Cork Film Festival. EMU Productions plan to build upon their current slate of projects and to continue producing interesting and quality content.